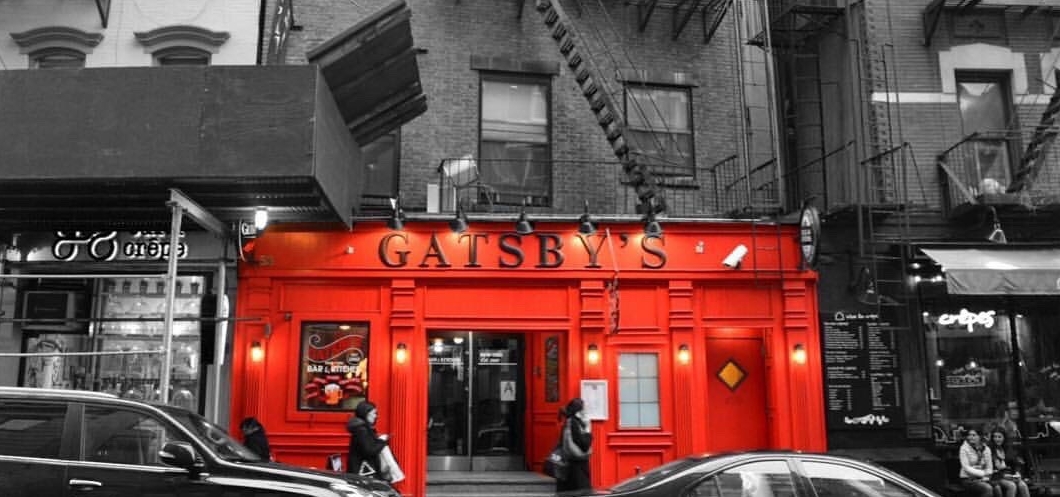 Address
53 Spring Street,
New York,
NY10012
Hours
Monday to Sunday 11am-4am
$

14.95
ARTICHOKE DIP WITH TORTILLA CHIPS
$

15.95
BUFFALO CHICKEN FLATBREAD
$

14.95
BABA GANOUSH & ROASTED RED PEPPER HUMMUS
$

14.95
CALAMARI WITH ZUCCHINI FRIES
$

14.95
BRUSSELS SPROUTS, BACON & WHITE BEAN QUESADILLA
$

15.95
HONEY, LIME & SRIRACHA CHICKEN SKEWERS
$

13.95
BLACK BEAN & VEGETABLE NACHOS
Sm $13.95 / Lg $18.95
GATSBY'S WINGS
Sm $13.95 / Lg $18.95
$

15.95
CRISPY CHICKEN SLIDERS
$

16.95
GREENS, CHICKEN AND AVOCADO
tortilla chips, tomato, red onion, lime cilantro vinaigrette
$

14.95
GOATS CHEESE AND BEETS
mixed greens, toasted pine nuts, cranberries, breaded goat cheese, orange vinaigrette
$

12.95
CAESAR
crisp romaine, shaved parmigiano reggiano, savory croutons
$

16.95
CORNFLAKE CRUSTED FRIED CHICKEN SANDWICH
jalapeno slaw, sweet potato fries
$

16.95
SMOKEY JACK BURGER
apple smoked bacon, pepper jack cheese, house sauce
$

15.95
CLASSIC HAMBURGER
Pat La Frieda blend, lettuce, tomato, bread & butter pickles
$

16.95
THE IMPOSSIBLE BURGER
plant based, smashed avocado, tomato, red onion
$

15.95
GARDEN BURGER
housemade, fresh vegetables, chick peas, quinoa, beans
$

16.95
MACARONI & CHEESE
three cheese, smoked ham
$

21.95
BEER BATTERED COD & FRIES
$

8.95
IRON SKILLET COOKIES AND CREAM
$

5.95
CHOCOLATE FUDGE BROWNIE
$

14
THE COOLER
Thatchers Organic Vodka, Fresh Lime Juice, Cucumber Tonic, Mint Sprig, Cucumber Wheel
$

14
ALRIGHT, ALRIGHT, ALRIGHT
Bourbon, Peach Puree, Lemon, Iced Tea
$

14
GINA AND MARIE
Rose wine, Aperol, Soda Water, Orange Slice
$

14
THE MUDD CLUB
Tequila, Mezcal, Chartreuse, Habanero, Lime, Agave
$

14
TAKIN CARE OF HIBISCUS
Hibiscus, Tequila, Orange Liqueur, Fresh Lime Juice, Sugar Rim
$

14
PRETTY IN PINK
Gordan's Pink Gin, Fevertree Elderflower Tonic, Blueberries
$

14
NEW YORK NEGRONI
Brooklyn Small Batch Gin, Sweet Vermouth, Campari
$

14
THE DAVID BOWERY
Rye Whiskey, Lemon, Turmeric, Honey
FIVE BOROUGHS
Brooklyn, New York
BLUE POINT, SEASONAL
Long Island, New York
BROOKLYN LAGER
Brooklyn, New York
BRONX PALE ALE
Bronx, New York
CITIZEN CIDER
Burlington, Vermont
MONTAUK WAVE CHASER IPA
Montauk, New York
TROEGS HOPBACK AMBER ALE
Hershey, Pennsylvania
OTHER HALF IPA
Brooklyn, New York
BARRIER CLASSIC WHITE ALE
Oceanside, New York
MILLER LITE
Milwaukee, WI
WEIHENSTEPHAN, HEFE WEISS
Germany
GUINNESS STOUT
Dublin, Ireland
HEINEKEN PILSNER
Netherlands
STELLA ARTOIS
Leuven, Belgium
TWO BROTHERS
Warrenville, IL
NEW PLANET BLONDE ALE, GF
Fort Collins, CO
ALLAGASH WHITE
Portland, ME
NARRAGANSETT LAGER
Rhode Island
MAGNERS CIDER
Tipperary, Ireland
AMSTEL LIGHT
Amsterdam, Netherlands
LOCKHART CHARDONNAY
Napa, California
NOBILO, SAUVIGNON BLANC
Marlborough, NZ
MEZZACORONA, PINOT GRIGIO
Italy
BLACKSTONE, SYRAH
California
MILESTONE, CABERNET SAUVIGNON
California
TRAPICHE, MALBEC
Argentina
LE COLTURE, PROSECCO BRUT
Veneto, Italy N.V.
VEUVE CLIQUOT, PONSARDIN BRUT
N.V. France
MONDAY TO FRIDAY 11AM-7PM
Large party room available, accommodating between 20 and 250 people. To book a party or event please fill out your information below and we will be in touch. Or you can call us on 212-334-4430, ext 1.
ACCESSIBILITY
Gatsby's is committed to facilitating the accessibility and usability of its Web site, www.gatsbysnyc.com for all people with disabilities. Gatsby's has implemented and will continue to implement the relevant portions of the World Wide Web Consortium's Web Content Accessibility Guidelines 2.0 Level AA (WCAG 2.0 AA) as its web accessibility standard, which will also bring Gatsby's into conformance with the Section 508 Web Accessibility Standards developed by the United States Access Board (Section 508).
Please be aware that our efforts are ongoing. If at any time you have specific questions or concerns about the accessibility of any web page on www.gatsbysnyc.com, please contact us at information@gatsbysnyc.com. If you do encounter an accessibility issue, Please be sure to specify the web page in your email, and we will make all reasonable efforts to make that page accessible for you.